Karen Forrest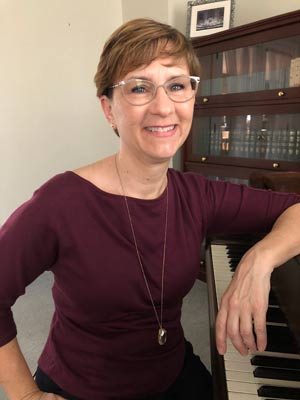 Karen Forrest directs the Sarah W. Gibbons Middle School Eighth Grade Band, Jazz Band, and the Westborough Schools Wind Ensemble. Other ensembles in the Westborough Public Schools she has worked with include the Sixth Grade Band, and more recently, the Westborough High School Festival Jazz Band. Concert and jazz bands under her leadership have received superior ratings at numerous state band festivals. In addition, the Gibbons Middle School Wind Ensemble was invited to perform at the 2005 and 2009 Massachusetts Music Educators Association All-State Conferences in Boston.

A native of Shrewsbury, Karen earned a Bachelor of Music degree from Boston University, where she was a student of Ralph Gomberg, Principal Oboist of the Boston Symphony Orchestra. She earned her Master of Music degree from the University of Massachusetts at Lowell, where she also completed her certification in Orff-Schulwerk pedagogy. Karen began her teaching career in New Hampshire, and also taught in Concord and Littleton, Massachusetts. In 1992, she became Band Director at Queensbury Middle School near Lake George in New York. During her tenure there, she was invited to direct the 1997 Saratoga-Warren All-County Junior High Band. She was guest conductor of the 2007 Quabbin Valley Music Educators Association Middle School Concert Band, and of the 2010 MMEA Western District Junior Jazz Band. In spring of 2015, Karen earned Supervisor/ Director – Core (Arts) Licensure through the Massachusetts Department of Elementary & Secondary Education.

Karen serves on the Executive Board of the Massachusetts Instrumental & Choral Conductors Association (MICCA) as Co-Chair of the Concert Festival, a position she has held since 2004. She has served on the Executive Board of the International Association for Jazz Education, and holds an active membership with the National Association for Music Education (NAfME).

Karen enjoys long distance running and spending time with her husband Rich, and her two young adult sons, Tim and Brad.