Kayla Werlin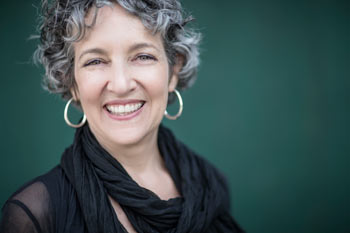 A native of Lexington, Massachusetts, and a beneficiary of Lexington's outstanding K-12 music program, Kayla Werlin holds music degrees from the University of Michigan and the University of Massachusetts. After teaching in Portsmouth, NH, Sturbridge, MA, Williamsburg, VA, and Middletown, NJ, Kayla began teaching in the Longmeadow Public Schools in 1995, and has remained in Longmeadow ever since. Although she has nearly 40 years of experience teaching music at every level, from kindergarten through college, it is the high school level where she found her true passion. Ms. Werlin's current position is Music Department Chair and Vocal Music Director at Longmeadow High School. Under her direction, LHS choirs have earned awards at state choral festival as well as the 2011 American Prize for Choral Performance. They have received invitations to perform at state and regional music education conferences, and they have performed in New York, Philadelphia, Washington DC, New Hampshire as well as Italy, England, Germany and Austria. This April she will lead a performance tour of Sweden and Denmark. Performances by special invitation at the State House in Boston have included a 2015 signing ceremony recognizing the 25th anniversary of Massachusetts' friendship with Hokkaido, Japan, and the 2016 convening of the Massachusetts Electoral College.
Kayla has played an active role in the Massachusetts chapters of both NAfME and ACDA. She is a past president of Massachusetts ACDA, and is currently Western District Chair of MMEA. This year she is managing the All-State Chorus. She has served as a guest conductor in all five districts in Massachusetts, as well as at the Cape & Islands and Quabbin Festivals, and has conducted festival choirs in New Hampshire, Vermont, New York and Connecticut as well.
In 2018 MMEA honored Kayla with its Lowell Mason Award. In 2016 she was one of three conductors from the US selected as a fellow in the C21C (Conducting for the 21st Century) Symposium at the Eric Ericson International Choral Centre in Stockholm, Sweden.
Kayla values the experience of mentoring fellow conductors. She has supervised many student teachers who are currently in the profession, and she is tremendously proud of Longmeadow High School graduates who are now music educators. She also volunteers as a mentor through the ACDA national mentoring program. In 2020 she is planning to join a former student in a presentation about mentoring at the World Choral Symposium in Auckland, New Zealand.
Married to conductor E. Wayne Abercrombie, Kayla is step-mother of six, grandmother of 13 and great-grandmother of 10. In her spare time, favorite hobbies are cooking for friends and slaying the 5.6's at the rock wall.
Janet Haas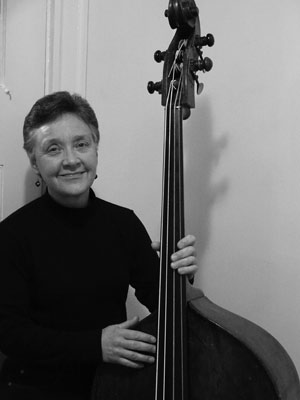 Born in New London, CT to Terry and Lucy (née Balestrini) Reeve, Janet grew up in Mystic until her family relocated to Annapolis, MD when she was eight. There, she played French horn in junior high and began to study double bass in high school, taking lessons at Peabody Conservatory. She entered East Carolina University in Greenville, NC in 1976, and had the distinction of being principal bassist of the orchestra all four years of her undergraduate study. In 1980, she received her BM in both Music Therapy and Music Education, married her college sweetheart Eric Haas, and moved to Boston, MA.
Janet taught general music and strings for three years in Wilmington, MA, then one year each in Wappingers Falls, NY, Somerset, MA and Wayland, MA, before she was hired as string specialist in Lexington, MA in 1986, where she taught for 31 years. During her tenure, the LHS orchestra grew from 17 string students to nearly 200 players in 3 orchestras, with an astounding proportion of the student body involved in the string program. She sought continually to improve every aspect of her craft, both playing and teaching: she studied conducting with Frank Battisti at New England Conservatory (even, at his insistence, changing the baton from her left hand to her right!), wrote out parts for unknown masterworks of the 18th century (such as Georg Muffat and black composer Joseph Bologne, Chevalier de St. George), hired a baroque violinist to present a workshop on historical bow technique, and introduced her students to the art of chamber music by insisting that they perform one selection on each concert unconducted.
Janet became interested in early stringed instruments in college where she was introduced to the viola da gamba. In Boston she began to study viol seriously with Laura Jeppesen and later in NY with Martha McGaughey. She continued to play double bass with the Mystic Valley Chamber Orchestra, Boston Philharmonic, and as an active free lancer, but also performed on viola da gamba with a variety of early music ensembles: Much Ado (a Renaissance consort), La Sonnerie, the viol trio Orianna, La Donna Musicale, the Folger Consort in Washington, DC, Boston Camerata and others. She played the difficult sola viola da gamba obbligato parts in performances of Bach's St. John and St. Matthew Passions, but was a champion of new music as well.
On December 6, 2018, she was taken to Lahey Hospital after becoming unable to speak. She was diagnosed with an aggressive and inoperable brain tumor a week later and died on January 9, 2019, just 59 years old.